By Robbie Hanratty (RHanratty99)
"It has been very different not getting out and doing what we love but the support of people sharing our music, buying our merchandise and encouraging us to tour in their area once this is all over has really helped."
– Lloyd McDonald (The Capollos)
The Capollos are one of Scotland's most promising up and coming bands.
They are an award winning four piece indie rock band from Aberdeen. Recently the band released an EP called 'Telephone' which follows on from the roaring success of their single 'Electrify' which was nominated for best Scottish song of 2020 by Scottish music magazine, The Weekender.
With the United Kingdom still locked down due to the coronavirus pandemic, we have witnessed music venues across the country have their doors closed for almost a year now with zero income.
The longer these venues doors lie closed, the opportunities for music artists and audiences to connect in a meaningful way at a local level will simply disappear. Many worry that if they go, will they ever come back.
For the music industry, 2020 was a constant source of gloom and disappointment. Musicians were forced to postpone releases, ditch recording studio bookings and cancel tours. This on top of the fact that their income as well as that of their crew and music venues was completely shattered.
This is a time where it could be harder than ever to break through into the music industry. With the likelihood of no live music for the foreseeable future.
Music promoter, Rob Dignen, known online as Indie Rob, tells us, "It was really really difficult for live music artists last year and it has continued. The likelihood that things will return back to normal is very slim, especially up until the summer. The question on everybody's lips is will it continue or in the autumn will we have live music back like it used to be, i.e a sweaty crowded music venue or will we still be socially distancing. Nobody knows."
The famous Glastonbury festival has already been postponed for 2021 and its expected the rest will follow. Leaving a devastating impact on the industry, with summer festivals and concerts integral to the arts survival.
Many of the worlds favourite acts first started by playing an early afternoon slot at a festival or on the introduces stage. Promoters or punters would then spot a talent then the rest is history.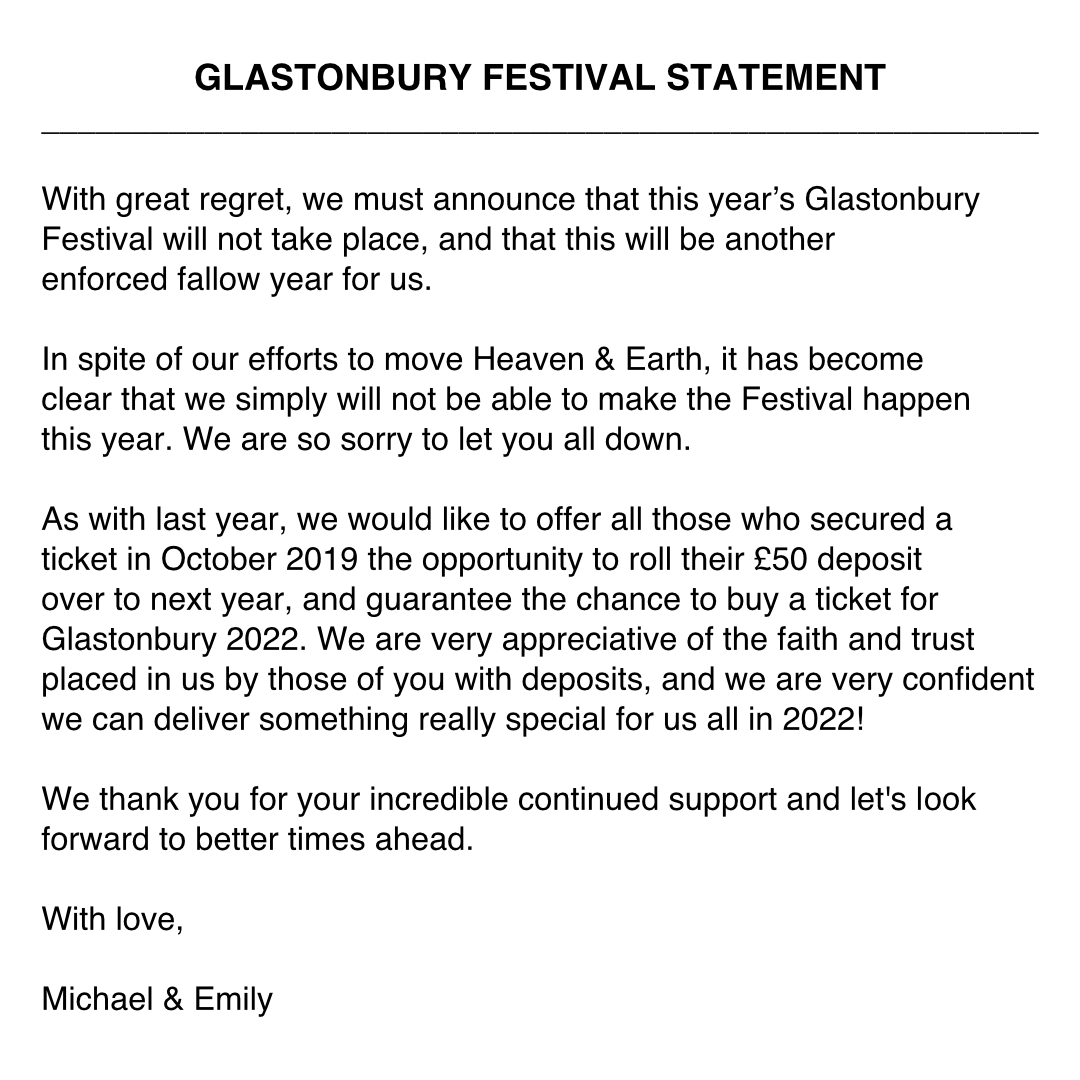 In Glasgow, a city famous for its music scene, venues such as Barrowland Ballroom, King Tuts Wah Wah Hut, Glasgow Cathouse Rock Club, and the 02 Academy Glasgow would be thriving every night of the week with punters in watching music artists showcase their talents. Now they all lie empty with no opening in sight. Venues just have a continuous cycle of rescheduling events.
A report published at the start of the year by UK Music warns that the lack of coronavirus cancellation insurance is the biggest barrier to major music related events happening in 2021.
The owner of Mostly Vinyl Micky, a popular independent music store in Glasgow told UWS news that, "A full gig at the Barrowlands has over 1800 people and that was sometimes two or three times a week."
"Having the website at the moment is great but you cant beat the atmosphere of a gig night at the Barrowlands with punters from all over the world popping in and asking about the venue & picking up some vinyl or merch."
Music fans have also been doing their bit to help during this period of uncertainty for the industry, with 'music mad' Gary Prime creating a Twitter account called New Indie Sounds to help unsigned, up and coming music artists get noticed. He's now racked up almost 5,000 followers.
He said, "I could see the impact lockdown was having on bands. They struggled to tour and get out and meet people. So I really wanted to do something to help the independent music scene."
"I now do everything I can. From sharing their music, sharing their merch, to giving ideas on how bands can increase their reach."
The musical talents Gary among others are spotting online are in desperate need of the chance to showcase their music on stage again before it's too late.
It was thought that at least a third of people involved in the music industry had considered leaving the industry all together after the financial consequences that occurred last year.
This research comes from the Musicians' Union, who are calling on the government to provide greater assistance to those affected within the industry.
The Musicians' Union is a trade union organisation which represents over 30,000 musicians working in all sectors of the British music business.
Last October, there was some welcomed news for many music venues around the country after over £2 million was set aside by the Scottish Government to stabilise venues and prevent permanent closure. However this was said to only last until April.
Even if concert venues were allowed to open again around April, there is very little chance that it would be at anything other than a small fraction of their capacity.
When they can finally take the stage again, the Scottish music scene has the potential to come back and be as strong as it has been for many years.
To ensure this is not the end of great music artists, venues and vibrant music scene across the country. If you want to join the fight to save the UK's Grassroots Music Venues. Join this group: Music Venue Trust Activists Group.
Buy music related memorabilia locally: Mostly Vinyl Micky (located across from the famous Glasgow Barrowlands), Love Music Glasgow and Monorail Music Glasgow.
The best places to find the best upcoming music talent during these times: In Your Ears Music and New Indie Sounds.
Tune into the #indiedisco run by Indie Rob every Friday night during lockdown over on Twitter for the chance to hear a mix of classic indie tracks as well as have the chance to discover some of the UK's best new musical talents.
#SaveTheArts #SaveOurVenues. https://saveourvenues.co.uk/watch/#/